The Importance of Mold Remediation for Your Home in South Albuquerque
7/5/2016 (Permalink)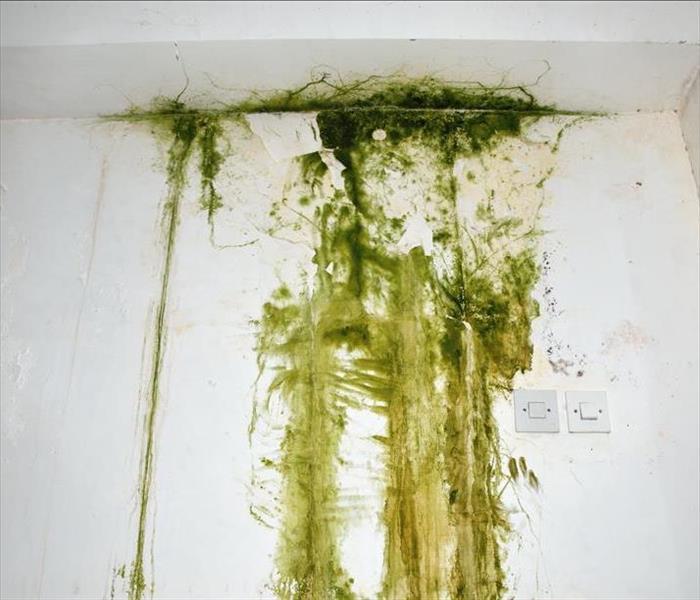 Once you become aware that mold is growing in your South Albuquerque home, removing the fungus should be your biggest priority. Mold remediation specialists state that mold could compromise the structural integrity of your property. Mold removal is not a DIY project. Rule of thumb is if there is about 10 square feet or more of mold growth, don't attempt mold remediation on your own. Play it safe and hire a professional mold remediation company like SERVPRO.
Mold is a fungus that grows throughout nature. In the event that your house becomes moist and wet, conducive conditions are now in place for mold proliferation. The airborne spores that are naturally in your home will develop into strings of colonies that bloom into large areas of mold patches. Mold can show up in the form of black spots, blue, green, white or even red staining on porous surfaces. Discoloration on your walls and ceilings also present other problems.

Mold can leave an unpleasant odor as it permeates through walls, flooring and HVAC ductwork throughout your home. This musty odor is endemic to outbursts of mold growth. Masking the odor does not solve the underlying problem. Identifying and eliminating odors are for the technically trained experts.

The Importance Of Hiring Professional mold remediation company like SERVPRO

Although some homeowners are inclined to attempt the mold removal process on their own, this strategy is not advisable. Once you go beyond fungi on the bathroom tiles or a small patch under the kitchen sink, it is time to consider seriously professional assistance. Professional mold remediation experts will use specialized equipment that demands expert handling for mold containment, air filtration, and cleaning. They will also identify and eliminate most present mold to ensure that your home is restored to its original safe, sanitary condition.

Call SERVPRO Today

When you realize that mold has invaded your home in South Albuquerque, it is important that you take action immediately. When it's time to call the right company to remedy unwanted mold, SERVPRO is the company to trust. With over 1,650 franchises and over 57 years of industry experience, our IICRC-certified technicians possess the expertise and training necessary to optimize the mold removal process for you.
Locally Owned Company with National Resources
As a locally owned and operated business, SERVPRO of South Albuquerque Call us for help. (505) 345-4700